May is Myopia Month
Myopia is nearsightedness. Learn more about myopia from the link below!
Myopia (Nearsightedness) Information from AOA.org
Our Office
Comprehensive Eyecare in a Professional and Friendly Atmosphere
At Advanced Eyecare Optometry, the doctors are thoroughly trained in the detection, diagnosis and treatment of vision disorders and eye disease. They utilize state-of-the art equipment such as the Zeiss OCT Optos Retinal Scanning Laser, and Humphrey Auto-Refractor and Visual Field Analyzer, which provides a higher level of care. This facilitates the early detection and management of eye diseases such as glaucoma, macular degeneration, and cataract which helps preserve your vision!Examinations also include the detection and treatment of eye muscle imbalance, poor eye coordination and reduced focusing ability, which are common problems among children and 40+ year olds.When indicated, the doctors fit any contact lenses required, including specialty lenses for astigmatism, monovision, (simultaneous far and near vision), or bifocal needs, as well as colored contact lenses for those who desire a "different look".If you are interested in laser eye surgery, (LASIK), the doctors will determine if you are a good candidate, and will provide the pre- and post-op management to insure a good outcome for this procedure.
Should you choose to wear eyeglasses, Advanced Eyecare Optometry offers a modern eyewear boutique with hundreds of styles to from which to choose. The licensed opticians are trained to help you select fashionable eyewear that compliments your lifestyle and fashion sense, all in a relaxed, friendly, caring atmosphere.
If you are looking for someone to help you with all your eyecare needs, then call Advanced Eyecare Optometry today. We'll put your needs in focus!
Our Doctors
Meet Our Doctors
Robert Turcios Jr., O.D.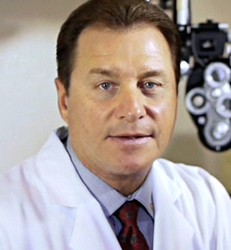 Dr. Robert Turcios Jr. is a second generation optometrist who has practiced in Pleasant Hill since 1984. He was born and raised in the Bay Area and attended the University of California, Berkeley, where he received his Bachelor of Science degree, with honors, in 1978 and his Doctor of Optometry degree in 1980, earning academic awards for Excellence in Binocular Vision and Outstanding Merit for his doctoral thesis. He practiced with his father, a long-time East Bay optometrist and associate clinical professor at Cal, until he moved to Pleasant Hill.
In addition to providing general eye care to all in need, Dr. Turcios' special interest include:
The fitting of specialty contact lenses for astigmatism and bifocal needs;
The diagnosis and management of eye disease such as Macular Degeneration and Glaucoma, which he is certified to treat;
Children's vision problems and eye coordination training.
He is a member of the American and California Optometric Associations and active in the community as a member of the Rotary Club of Pleasant Hill, where he was president from 2011/2012. He is an avid golfer and enjoys following Cal Athletics. He has coached his children's CYO basketball teams and continues to support local youth sports. Happily married to his wife Janet (who is the office manager) for over 35 years, they have raised three daughters who have attended Carondelet and Christ the King schools, where he and Janet are parishioners.
---
Samira Qazi, O.D.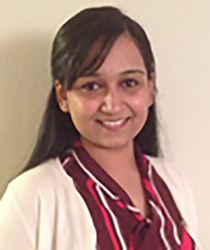 Dr Samira Qazi is originally from North Carolina. She completed her undergraduate in Biological Sciences at North Carolina State University and graduated from Pennsylvania College of Optometry at Salus University with an Optometric Doctorate in 2009.
Her clinical training included externships at the Philadelphia Veterans Hospital and disease based practices in North Carolina. Dr. Qazi practices primary care optometry with an interest in ocular disease treatment and management. She is glaucoma certified and fluent in Urdu/Hindi.
Dr. Qazi has been practicing in the Bay Area for over a year and is excited to be a part of Advanced Eye Care.
---
For more helpful eye care and vision care tips, please visit our main blog page.
Source: aoa.org