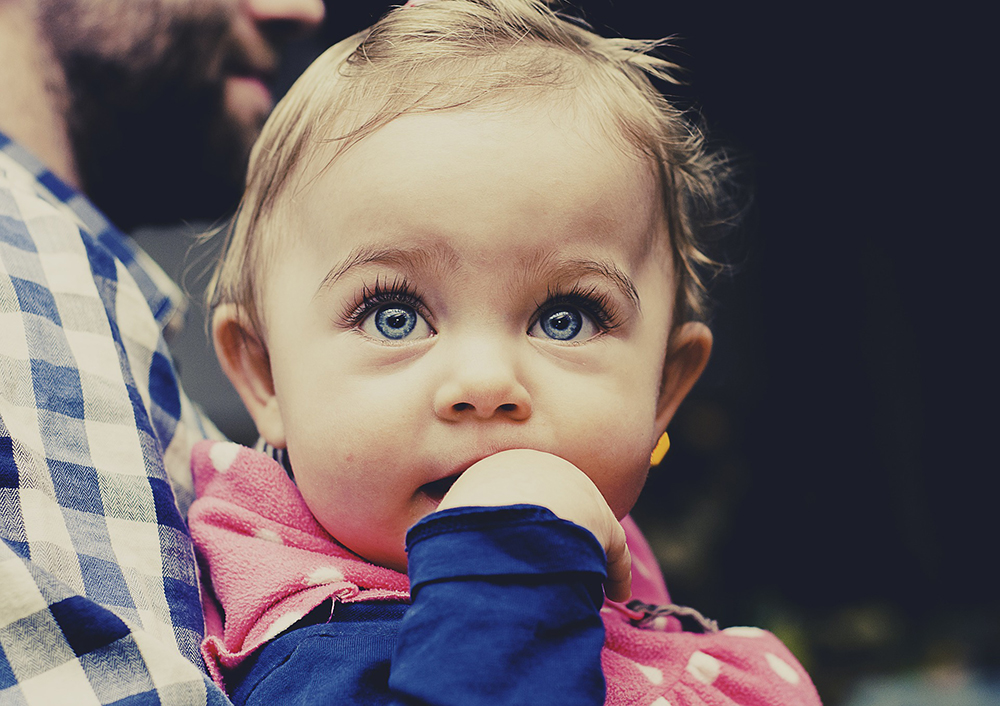 Eye color often is the genetic trait that fascinates parents the most as a child develops. Will the child's eyes be black, brown, blue, gray, green, hazel or some combination of colors? How a child looks depends on the genetic material each parent contributes to the child. But the parents' genes can mix and match in many different ways. The influences from each parent aren't known until — surprise — after the child is born!
How Eye Color Develops
The colored part of the eye is called the iris, which has pigmentation that determines our eye color. Human eye color originates with three genes, two of which are well understood. These genes account for the most common colors — green, brown, and blue. Other colors, such as gray, hazel and multiple combinations are not fully understood or explainable at this time.
We used to think of brown being "dominant" and blue being "recessive." But modern science has shown that eye color is not at all that simple. Also, eye colors don't come out as a blend of the parents' colors, as in mixing paint. Each parent has two pairs of genes on each chromosome. So multiple possibilities exist, depending on how the "Wheel of Fortune" spins.
Dutch researchers have announced they are working on ways to determine eye color of adults with sophisticated DNA analysis that can predict with 90 percent accuracy whether people have brown or blue eyes.In May 2010, the same researchers said they were closing in on the ability to more accurately predict even variable eye colors via DNA analysis and new understanding of how genetics govern eye color. Researchers said these discoveries also have implications for forensic investigations at crime scenes where recovered DNA may give clues about the actual appearance of suspects.
Most babies are born with blue eyes that can darken in their first three years. Darkening occurs if melanin, a brown pigment usually not present at birth, develops with age. Children can have completely different eye colors than either of their parents. But if both parents have brown eyes, it's most likely that their children also will have brown eyes.
The darker colors tend to dominate, so brown tends to win out over green, and green tends to win out over blue. However, a brown/blue parent mix doesn't automatically produce a brown-eyed child. Some children are born with irises that don't match in color. Usually this is caused by faulty developmental pigment transport, local trauma either in the womb or shortly after birth or a benign genetic disorder. Other causes can be inflammation, freckle (diffuse nevus) of the iris and Horner's syndrome.
Having an early eye exam is important to make sure nothing serious is going on — and "nothing serious" is the most common finding.
What Color Will Your Baby's Eyes Be?
How eye color is inherited is far more complicated than what was thought back in the days when simple charts were created that supposedly could predict the eye color of children based on the eye color of their parents. It's far more likely for two brown-eyed parents to have a blue-eyed child than for two blue-eyed parents to have a brown-eyed child. This is because the generally less dominant blue-eyed trait can be passed along by brown-eyed people until the genes for the lighter eye color happen to match up, possibly many generations later.
Two blue-eyed parents, on the other hand, are much less likely to have darker-eyed children. This is because darker eyes are so much more dominant that the genetic trait. And when present, would first show up in the parent, who then wouldn't be blue-eyed at all. Still, due to the complexities of how genetic traits are passed along, it is entirely possible for two blue-eyed parents to have a brown-eyed child.
---
Source: allaboutvision.com
For more helpful eye care and vision care tips, please visit our main blog page.